One of the many things I didn't appreciate before TTC is all of the stupid, inappropriate things people say to women on the subect of TTC. They always mean well and I'm sure I've said my share of idiotic things too, but this is a subject that is best left alone unless you really know the person you are talking to.
Over the last couple of weeks, here's a sampling of what I've heard from one of my coworkers:
"When are you planning to have kids? You've been married for a while right?"
[Followed, of course, in the next breath by complaints about how her mother used to ask her that all the time and it drove her crazy]
"Don't wait too long to have kids. The older you get, the harder it is on your body." [She had twins at 38]
"How old are you? Seriously, just forget this teaching thing and go have kids. It's brutal when you're older."
It was no big deal at first, just casual conversation, but it is getting more persistent and really starting to irritate me. I'm now into month #10 and it's yet another long cycle - day 43 and still waiting for a positive OPK. The longer it drags on, the less patience I have for this crap.
I try to laugh it off and change the subject but what I'd really like to tell her is that it's pretty damn hard to do anything BUT wait and I'd appreciate NOT being reminded of the passage of time. I'd really like to tell her that my plans are none of her damn business. I'd really like to tell her that my body is giving me enough grief just trying to get pregnant, I don't need to hear how bad it'll be if I eventually do manage to get pregnant. And mostly...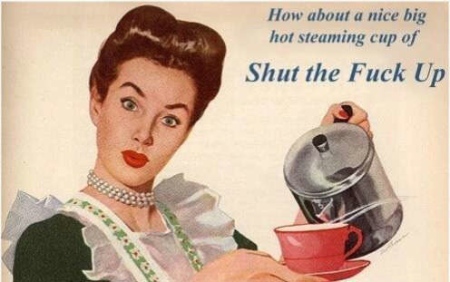 Seriously. Why do people think this is ok?